Department history
History of the Department
Department of Internal Medicine of the Central Asian Medical Pediatric Institute (Sampi) is the same age of the Institute, that is, was founded in the year of its creation - in 1972. Its founder and first head was Doctor of Medical Sciences, Professor Bahadir Amanullah Bahodyrovich that many sdelaldlya creation and development department. He headed it until 1990.
In 1978 the department was divided into two departments: the Department of Internal Medicine, Faculty of Pediatrics 1- and 2- vnutrennihbolezney the department of pediatric faculty.
In 1991, all of the department of therapeutic profile of our institute have been combined aquatic therapy chair, and head of the department was elected Professor UB Sharapov
In 2004, in connection with the creation of the institute health-pedagogical faculty with specialization \"medicine\", it was decided to re-establish the department of \"faculty therapy, military field therapy and occupational diseases\". He headed the Department of Honored Worker of Health of the Republic of Uzbekistan, MD, Nike, professor Babadjanov Abdumurat Sattarovich (1952. P.).
He graduated from the Tashkent State Medical Institute in 1975. He is a graduate school known Uzbek scientist, Academician of the Academy of Sciences of the Republic of Uzbekistan, member- Russian correspondent Academy of Medical Sciences. Honored Scientist of the Republic of Uzbekistan, Professor K. Yu.Yuldashev.
In 2013, the administration and by the decision of the Academic Council of the Institute Dept. transformed into the Department \"General practition- therapy, clinical pharmacology.\" The department has students 5, 6 and 7 courses of medical and medical teaching faculty and students 1 and 2 courses of faculty of higher medical sister.
The department is taught subjects \"Internal disease general practitioners\", \"Gerontology\", \"Rehabilitology\", \"Military Field Therapy\", \"Professional disease\", \"Traditional medicine\", and for students MVK- \"Nursing in the military field therapy \"\" Nursing in therapy \",\" Nursing gerontology \",\" Dietetics \".
Today the staff of the department is 10 edinits.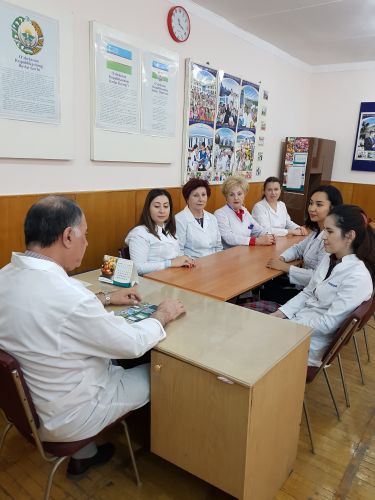 PPS the department is staffed by conscientious and skilled employees, of which 4 have a degree (doctor of 1 and 4 Candidates of Medical Sciences), 3 working on dissertations. The department is well equipped with a means of training and office equipment, mediaproektor. We can use Internet. The educational process is widely used interactive teaching methods, ICT, new teaching technologies. Effective use of continuously monitored and regularly reviewed. The results generalize to 2 journal articles and theses 9 and published in the journal Proceedings of the Republican Scientific and medical conferences.