Educational and educational and methodical work
Responsible for educational and methodical work is Kadomtseva L. V.
The department has students 5,6 courses in the subjects "Internal Medicine", "Military Field Therapy", "Occupational diseases", "Rehabilitology", "Traditional medicine", as well as students of 1 course of Okha on specialty "Gerontology nursing" and 2nd course "Dietetics" and "Therapy and military-field therapy."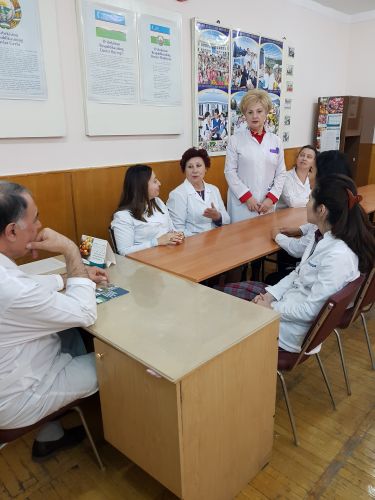 During the lessons are widely used modern educational technology (graphic organizers, project, case method, multimedia presentations) and information technology resources. Assessment of the students carried out by the rating system. Final exams are integrated method (OSKE).
Through the efforts of members of the department are prepared training, training manuals in internal medicine, military field therapy, occupational diseases, traditional medicine and Rehabilitation with the use of the latest teaching technologies. Over the last year it was published 20 articles, 11 abstracts. Issued 1 teaching manual in Russian and Uzbek languages.
Employees of department involved in the conference with international particioation. Department staff improve their skiills by practice and scientific conference.