Graduates Club
THE LIFE OF PROFESSOR SULTAN AMINOVICH DOLIMOV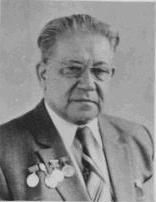 Professor Sultan Aminovich Dolimov was born May 5, 1915 in the city of Tashkent. He is a famous scientist and demanding teacher, founder of the Central Asian Pediatric Medical Institute. In 1932 he graduated from secondary school No. 7 and entered the Tashkent State Medical Institute. In 1937 he graduated with honors diploma. Until 1939, S.A. Dolimov was the head of the surgical department and was the chief physician in the Surkhandarya Regional Hospital.
1939-1941 under the guidance of Professor B.A.Stekolnikov at the Department of Operative Surgery began his scientific research on "Methods of surgical treatment for the defeat of the vessels of the extremities." The scientific research of S.A.Dolimov coincided with the beginning of the Second World War. He voluntarily went to the front and got into the medical-sanitary company of the infantry battalion. Conducted successful operations in military conditions, saving lives for soldiers.
In 1945 the war ended and S.A.Dolimov returned to Tashkent. In the Tashkent State Medical Institute at the Department of Operative Surgery and Topographic Anatomy, he continued his scientific research. In 1947 he defended his thesis on "The importance of dressing some veins in the ligation of large arterial vessels of the lower and upper extremities" using experimental research materials.
In 1940-1960 he worked as an associate professor of the department, deputy dean of the medical faculty, dean of the faculty, pro-rector for academic work and, at the same time, supervised the Republican Hospital at the Tashkent State Medical Institute.
The doctoral thesis on the topic "Pathomorphological features of the formation of gastric ulcers and improvement of the surgical method of treatment" was of great importance in the development of sprouting. In 1971 he headed the organizing committee of the present TashPMI and from the beginning of the organization of the institute was the pro-rector for academic work. In 1972, under the direction of S.A.Dolimov, at the weekend of the "boxing" of the offices of the children's infectious disease department, 5 and 6 lecture halls were built.
Under the direction of S.A.Dolimov, 12 candidate dissertations were defended, more than 105 works, 3 textbooks for students of medical universities were published, the author developed 2 inventions. For his services, he was awarded titles and orders: "Honorary Health", "Honored Doctor of Uzbekistan", "Honored Scientist of Uzbekistan".