Shavkat Mirziyoev met with the Director-General of UNESCO
On 8 October, the President of Uzbekistan met with Director General Audrey Azule at UNESCO headquarters in Paris.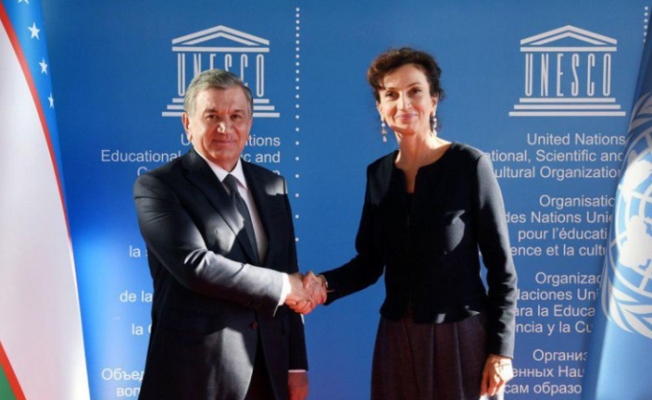 At the meeting, Shavkat Mirziyoyev noted the deep symbolism of the fact that the official visit to the French Republic began with a meeting at UNESCO, because Uzbekistan's cooperation with this organization is consistently developing.
Audrey Azule, welcoming the President of Uzbekistan, stressed that cooperation with Uzbekistan, in particular the current meeting is very important for UNESCO.
During the meeting, an agreement was reached to hold the regional forum of young scientists of Central Asia in Uzbekistan, as well as the Asian forum "Information technologies for the preservation of cultural heritage" in 2019 in Tashkent.
In addition, it was confirmed the desire to expand partnership with UNESCO in the preservation of the architectural heritage of Uzbekistan.
The Director-General of UNESCO highly appreciated the policy of Uzbekistan to preserve its cultural and historical heritage-the heritage of world civilization.
At the end of the meeting, Shavkat Mirziyoyev and Audrey Azule signed a program of cooperation until 2021, aimed at developing cooperation between Uzbekistan and UNESCO.
President Shavkat Mirziyoyev left a note in the book of UNESCO guests of honor.
Recall that Uzbekistan was twice elected to the Executive Council of the organization. Together with UNESCO, the anniversaries of Amir Temur, Mirzo Ulugbek, Ferghani, Imam Bukhari, Kamoliddin Behzod, ancient cities of Bukhara, Khiva, Termez, Shakhrisabz, Karshi, Samarkand, Margilan and Tashkent, monuments of ethnos and literature "Alpomish", "Avesto", as well as the Khorezm Academy of Mamun were widely celebrated on an international scale. The city of Bukhara was awarded the prize of the organization "Cities for peace".