The President of Uzbekistan congratulated the people of the country on Navruz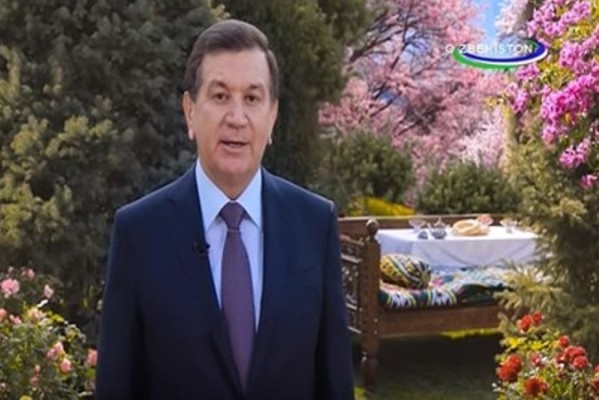 On 20 March, the President of Uzbekistan Shavkat Mirziyoev congratulated on television people in the country on the occasion of Navruz:
Dear compatriots!
To our blessed land together with the spring comes the long-awaited, all of us loved the beautiful holiday of Navruz. With all my heart I congratulate all inhabitants of our country on this wonderful holiday – New year on East calendar. In these bright days, I wish you, my dear, good health, happiness and good luck, peace and prosperity.
Dear friends!
This year the Navruz holiday is held in all cities and villages of our country as a national, sail, which gives it a special brightness and beauty. The spirit and philosophy of Navruz in tune with the noble ideas and objectives of the Year of dialogue with the people and interests of the individual. All of our people, congratulating each other, said Nowruz in a buoyant and joyful mood everywhere – in the vastness of the valleys and foothills, flowering parks and gardens. Prepare sumalak, other spring dishes are celebrations and festive presentation.
People thank God for peaceful days, showing each other special kindness and mercy, generosity and magnanimity, visit respectable aksakals and mothers, all who need help and support, conduct hashar, contribute to the improvement of local communities, and our entire country in General. In such good works are the essence and deep meaning of Navruz.
Dear compatriots!
Today, our skilled dehkans and farmers with high hopes and plans to start a new planting season. We sincerely congratulate them and wish that the coming year will be for all of us successful and prosperous, and the harvest plentiful. Navruz is truly the most favorite holiday for living in our country of representatives of different Nations and peoples of our multinational people.
Today, as we celebrate this wonderful holiday, we wish the peoples of all countries near and far abroad of peace and tranquility, prosperity and progress.
Dear compatriots!
Once again I congratulate all of you on wonderful holiday of Navruz and Express my most heartfelt wishes. Let Navruz will bring to our native land peace and prosperity, happiness, wealth and prosperity! Let every family, every home will be a lot of happy and bright days! Let come true all our good hopes and aspirations! Let always over our country will be pure heaven!
Happy Navruz, my dear!