On the extension of the deadline for reception of documents of foreign citizens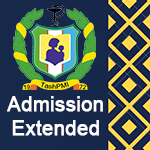 TASHKENT PEDIATRIC MEDICAL INSTITUTE
Tel.: +998 71 262-34-03 Fax: +998 71 262-33-14
INFORMATION LETTER
for foreign applicants
Tashkent Pediatric Medical Institute invites foreign citizens to study.
Applications for the bachelor's degree in the 2018/2019 academic year from foreign citizens will be accepted until August 20, 2018.
Admission of foreign citizens to the bachelor's degree at TashPMI is carried out without conducting test examinations, according to the results of the interview and taking into account the points scored according to the rating system. Foreign citizens who have submitted documents for bachelor's degree at TashPMI are interviewed to determine the level of their knowledge appropriate to the direction of education, professional inclination and motivation, the general intellectual and spiritual-moral level. Training of students is carried out on a fee-contract basis, stipulated by the legislation for foreign citizens, and is conducted in Russian and Uzbek languages.
Currently Tashkent pediatric medical institute (TashPMI) has the status of a basic higher educational institution in the field of pediatric medicine in the Republic of Uzbekistan and is one of the most prestigious institutions not only in the republic, but also in the Central Asia. The students are trained in the main body of TashPMI, TashPMI clinic, as well as clinical bases located in the leading scientific and practical medical centers, multidisciplinary clinics and polyclinics. In TashPMI, bachelors and masters are trained in full-time studies. There are 4 faculties in the institute: Pediatrics, General medicine, Medical-pedagogical, Medical-biological and the Department of Higher Nursing. For more information about the institute, please visit http://www.tashpmi.uz
The minimum package of documents required for admission to the bachelor's degree program:
• Application addressed to the rector;
•Copy of the passport;
• Autobiography (CV);
• Certificate attested by a notary in Russian or in Uzbek;
• Medical certificate – form-086U or certificate about general health;
• Medical certificate from the AIDS Center of Uzbekistan, form 503 or the equivalent of a certificate of residence;
• Photography 3.5 x 4.5 - 6 pcs.
Documents can also be submitted in electronic form (PDF) by sending an e-mail to interdep@tashpmi.uz.
Or, till August 20, foreign applicants must wrestle the originals of documents and pass an interviw.